Relay for Life
was an amazing experience. I walked seven or eight laps, which isn't a lot. But combined with walking up and down the hill, around the booths to see friends and my weight... it was a lot for me. I wouldn't have missed this experience. It was a blessing. Some blessings come easy and some come hard.
The highlights were being able to see old friends, some who I hadn't seen since high school, and making new friends. To be honest, I didn't want to go. Who would? So depressing. All those cancer patients. ( An obvious joke which I'm sure someone will be offended by. ) But when I arrived and realized what was going on. Not that I didn't know on a logical level. I just hadn't emotionally realized... All these people, who don't have cancer, are there walking around a track for me. They don't know me. They're just doing what they think is right.
Our team captain, Sonja, who Kristin and I had never met before was there at 9 a.m. setting up. She has sever injuries she's trying to recover from as a result of a car accident a few weeks ago. But she was there carrying things in, setting things up and walking laps. She was in pain. But she was doing what she thought was right. For me. For a bunch of people she didn't know, she was walking laps in pain. To raise money. To raise awareness.
How could I not be there? These people, all of them, were my friends by default. And, again, it was an amazing experience.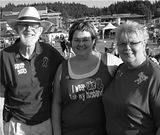 ::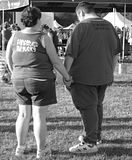 ::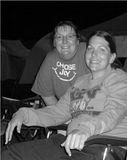 My thoughts are kind of scrambled right now. Still have aches and pains from the walk and too much sun combined with medications that say "avoid direct sunlight". ( I'm a moron sometimes. ) But Kristin summed up the most difficult part of the weekend for me. She said, "I just couldn't help looking at your luminary and thinking that someday it's not going to say 'In Support Of'..."

Nope. Someday it'll say "In Memory Of".